Updated 31st March 2021
Oh my goodness I'm on the last minute updating this Easter blog. Sorry. Ideally I would have liked to have got out and about to the shops to check out what gluten free Easter goodies are available. But thanks to the horrid virus it didn't happen this year. I have however added a couple of new things that I have tried and enjoyed.
The products I've listed below are gluten free in the UK, but may not be in other countries.
Sainsbury's Free From chocolate hot cross buns
I have to be totally honest with you, I wasn't sure if I was going to enjoy these, as I do love traditional hot cross buns and so wasn't convinced about chocolate being thrown into the mix. However, I was pleasantly surprised as these buns really are delicious.
Coop gluten free hot cross buns
I fell for the packaging and the look of these buns and I wasn't disappointed. They were lovely and soft and filled with just the right amount of fruit and spice. Delicious toasted with butter.
On the subject of gluten free hot cross buns check out here which brand came out on top this year.

Lindt Strawberry and cream
I'm a fan of Lindt chocolate, with its melt in the mouth quality. But unfortunately, a lot of Lindt products do contain gluten, so you have to be extra careful when picking things out from their range. Good news, this strawberry and cream egg has no gluten containing ingredients or 'may contain' warning. I've not tried this one, but wouldn't mind doing so.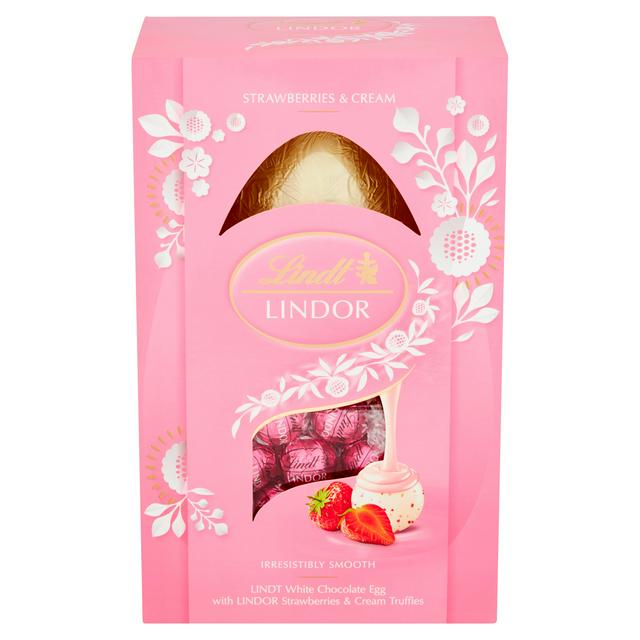 Dark and white chocolate Lindt bunny
And whilst we are on the subject of Lindt chocolate, thanks to somebody doing a little shout out on Instagram, I discovered that the dark and white Lindt bunnies are gluten free. Unlike the milk chocolate ones with the red ribbon which are not, as they contain barley malt. The dark chocolate Bunny in this picture was shipped over to Australia as a little treat for my sister-in -law, Kate. She is a huge Lindt chocolate fan!
Sainsbury's Taste the Difference Swiss dark chocolate eggs
I was really taken with these dark chocolate eggs wrapped tightly in their pretty pink foil. And I'm so glad I picked a bag up as they are lovely. A perfect shot of rich chocolate indulgence to enjoy with a freshly brewed coffee.
Montezuma's milk chocolate peanut butter mini eggs
If like me, you love your peanut butter I think you will love these too. They say mini eggs on the pack, but they are a good size. One was plenty for me to enjoy with a cuppa. The sweet and salty combination and buttery texture of these eggs were yummy! You can pick these up at Waitrose.
Free From choc bunny by Sainsbury's
So far, I have just had a quick nibble of this little one's ears, as I wanted to be able to share my thoughts with you – I'm saving the rest for later. Well, this Free From bunny is really, really good, and would make the perfect little treat for anybody that loves their chocolate but also has to avoid dairy.
Terry's chocolate orange Mini eggs
I used to love Terry's chocolate orange (my grandparents always had segments of this in their 'toffee tin'), but unfortunately due to the 'may contain' warning on the pack it's now off limits. So it was a delight to discover that these crunchy orange flavoured chocolate eggs are good to go for us gluten free lot. And they are very nice…I like to grab a few and enjoy them with a cuppa.


M&S Swiss mini eggs
A little spot of indulgence: Three different flavoured mini chocolate truffle eggs that melt in your mouth and are so nicely wrapped and packaged too.


Cadburys chocolate
A lot of Cadbury's chocolate is gluten free, but you do have to be on your guard and always check individual packs. As some of their products, even if they don't include gluten containing ingredients, sometimes will have a 'may contain wheat' warning on the pack. This is due to the way the product has been produced. This warning is there to let you know there is a real risk of gluten contamination within the product. I do not eat anything with a 'may contain' or 'not suitable' warnings and don't recommend that you do either.
Here are my current favourite Cadbury Easter treats…
Cream eggs: Both standard and mini eggs are suitable. I've been eating Cadburys cream eggs since I was a child and it makes me very happy, that despite now having dietary needs I can still indulge in their delightful sweet chocolate yumminess!!

Mini eggs: Easter would not be Easter for me, without a pack of mini eggs. My amazing mum would treat me and my brother to a tube of these every year. I like to store mini eggs in a Bonne Maman jar, as it has a wide opening and it's nice and easy to get your hand inside to grab a couple of eggs as and when you fancy.

Mini egg chocolate bar: This is a newbie to me and it's lovely. Good old cadburys chunky chocolate with tiny little mini egg pieces dotted here and there.

Ultimate Crunchie bits egg: When I checked out the packaging on this egg, I just hoped it was going to be suitable for my gf diet. And it was…YAY! This is my current favourite chocolate Easter egg. The chocolate is fabulously extra thick in parts and has lots of sweet crunchie bit pieces throughout. If crunchie bars are your thing, I urge you to treat yourself to one of these super duper eggs!

Homemade gluten free treats
If you fancy rustling up some homemade gluten free Easter treats, I have a great recipe for a chocolate marble Easter cake and also one for some lovely easy to make Easter cupcakes.
And if you fancy making a batch of gluten free hot cross buns you may want to check out My gluten free guides recipe. They look so good!
Happy Easter. Hope it's all you want it to be.
Liz x

Quick thing to mention, as it's something that nearly caught me out. When you're checking the suitability of eggs, do double check both the egg and the treat inside, as I've spotted a few eggs that were safe, but then the goodie inside was not and vice versa. Also, manufactures can change their ingredients at any point, so it's always good to keep checking products to make sure still OK for your own dietary needs.